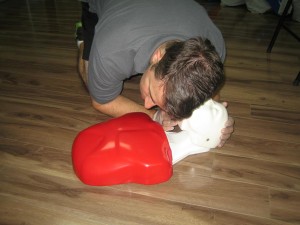 We are proud providers of workplace approved cardiopulmonary resuscitation (CPR) "only" courses in the Red Deer region. These courses are specifically designed for individuals that are required to only be certified in CPR and automated external defibrillator (AED) training. Red Deer First Aid has four different CPR level's and three of them can be taken as a stand-alone course. All of the CPR programs also provide candidates education and training in the usage of automated external defibrillators (AED) which can drastically increase chances of survival for victims of cardiac arrest. At Red Deer First Aid we provide customers with the option of registering for CPR "A", "C" and "HCP" courses.
This cardiopulmonary resuscitation program is the most basic workplace approved program available. It is also referred to as basic life support and also educates participants in AED usage. Participants that complete this program will receive a workplace approved wallet sized certificate that is valid throughout Canada and meets a number of certification standards. For more information and / or to register for a CPR "A" and AED course in Red Deer visit our CPR "A" and AED page.
This CPR course is designed for customers that want to learn CPR and AED usage techniques for victims of all ages. The certification received from this course is valid for 36 months and meets government, academic and workplace standards for CPR certification. For more information about CPR level "C" or to register for this 5 hour course visit our CPR "C" and AED page.
This advanced CPR course is designed for participants that work in the health care industry. This course teaches participants all of the material from CPR "C", however, candidates will learn additional material pertaining to advanced equipment and trained CPR assistance. This course is approximately 5 to 6 hours in length and also includes AED training. For more information or to register for this comprehensive CPR course visit our CPR HCP page.