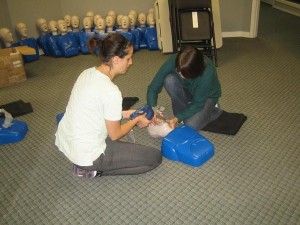 We offer a range of workplace approved first aid and CPR programs in the Red Deer region. The major and popular first aid programs are standard, emergency and childcare first aid. Each of these courses includes CPR and AED training and provides candidates that pass the program with a workplace approved certificate stating the type of first aid certification as well as the CPR level associated with the course. For the majority of these programs candidates can select the level of cardiopulmonary resuscitation (CPR) associated with the course. Registration for any of these courses can be done either on-line, through the phone or via email. To register for any of these courses in Red Deer Alberta or for more information select the course you need from below or from the menu.
This program is easily the most demanded workplace approved course available. This is a comprehensive 16 hour course that encompasses a large number of different first aid topics. The certificate received from this course meets government and workplace standards and can also substitute a emergency first aid certificate. At Red Deer First Aid we provide CPR level "C" standard with this course but we also provide customers with the opportunity to register into the course with CPR level "HCP" (Health care provider CPR). For more information or to register for the course visit our standard first aid course page.
Emergency first aid is a popular 8 hour course that includes basic first aid training and comes standard with basic life support CPR (CPR level "A"). Candidates may take this course with CPR level "C" for a small additional fee. This course includes topics such as cardiovascular emergencies and respiratory emergencies. Participants will learn to recognize and provide care for patients with the most common medical emergencies. For more information or to register visit our emergency first aid course page.
Childcare first aid is a program which is designed and made for individuals working in the child minding, daycare, or child care line of work. Participants will learn about a large amount of different first aid emergencies including sudden medical, cardiovascular and respiratory emergencies. This course is easily the most intensive courses offered through the workplace approved. After successful completion of this program candidates can receive wallet-sized certificate as well as a wall-mount certificate. For more information about our available childcare first aid courses and / or to register visit our childcare first aid page.