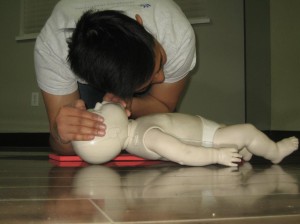 CPR level "C" courses are offered through Red Deer First Aid. CPR "C" teach individuals CPR and AED techniques for patients of all ages. Individuals will also learn to do cardiopulmonary resuscitation with patients developing additional complications as well as the use of automated external defibrillators. All of the applicants that fully finish this class get a workplace approved CPR "C" license that meets a variety of certification demands. Scroll towards the bottom within this page to enroll for any CPR level "C" course that suits your timetable. This CPR course is made for CPR accreditation exclusively with no first-aid certification included in the certificate or course. Sign up today to receive the best training at the most competitive costs in Red Deer Alberta.
Program Duration:
The length of CPR "C" depends upon the skill level, size and learning rate of the participants. Normally the training course is from five to six hours.
Course Price:
At Red Deer First Aid we're dedicated to the lowest prices. This class will cost you a flat fee of fifty-five dollars. Payments can be accomplished online through the application system directly below.
Training Course Content:
Individuals enrolled in this program will be taught CPR methodologies for infants, adults and children. Participants will learn about simple cardiovascular emergencies, legal elements of performing CPR and basic information about the emergency medical system.
CPR Level "C" Enrollment
To register for a cardiopulmonary resuscitation level "C" course in Red Deer pick the course time and date from the selection down below. Fill out the registration pages and process your payment to assure a seat in the class. Spots are limited. If you've got any questions or issues please contact us via phone or electronic mail.
Certification
Virtually all candidates complete the CPR "C" class without any problem. Upon completion participants will get a workplace approved CPR award which meets numerous accreditation criteria and standards. All certs remain current for 36 months. Red Deer First Aid also has re-cert classes.
Personal Courses
To schedule a personal group or individual lesson visit our "contact us" page.