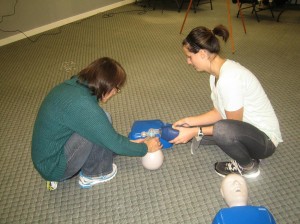 Red Deer First Aid provides a range of cardiopulmonary resuscitation "only" courses. The foremost detailed CPR course presented from St Mark James and available at Red Deer First Aid is health care provider CPR (CPR HCP) This specific class teaches students cardiopulmonary resuscitation techniques for subjects of every age group. Candidates will also learn to make use of advanced devices and trained bystanders. This particular class is designed for participants who work in or want to work in medical care field. Automated external defibrillator (AED) training is covered within the lesson. Sign up is user friendly and Red Deer First Aid has the most competitive prices for cardiopulmonary resuscitation "HCP" courses in Red Deer.
Registration
Browse to the bottom of the site to register into the health care provider (HCP) CPR and AED class of your choosing. This class is provided many times every week at different dates and locations in Red Deer. Expenses can be completed for any program through several different methods including cash, credit or debit.
Accreditation
Most participants complete the course with ease. Once individuals complete the class they will be given a workplace approved certificate that fulfils several school, employment and legislative requirements. This specific CPR certificate comes with AED certification.
Training Course Features
This cardiopulmonary resuscitation (CPR) training course normally requires approximately 6 hours to pass. Applicants will find out how to deal with many different cardiopulmonary resuscitation (CPR) challenges and receive a basic introduction to cardiovascular emergencies. Students will also learn to do 2 person / rescuer cardiopulmonary resuscitation. Enrollment in the CPR course costs Sixty dollars. Included in the price is accreditation costs and workplace approved instruction guide.
Private Lessons
Private CPR HCP and AED programs are featured in Red Deer by this company. Get in touch through phone or email to schedule a course.
Re-Certification Courses
Health care provider CPR (CPR HCP) refresher courses are available. Check out the CPR level HCP and AED refresher site for additional information with regards to specifications and application for CPR HCP re-certification lessons.
Find a training course listed below to sign up for your CPR "HCP" and AED class today. Discover leading-edge CPR skills and techniques in Red Deer via Red Deer First Aid.