Fact Checked
Most cases of gastroenteritis do not require any form of treatment and the symptoms eventually subside in a matter of days. On the other hand, medication might be required if the condition is a severe one.
Self-care for gastroenteritis
The individual should drink plenty of fluids to prevent dehydration, thus it is vital to take small frequent sips of water. Soup and fruit juices can also help avoid dehydration from developing in adults with gastroenteritis.
If an individual is susceptible to the effects of dehydration such as an elderly or has an underlying health condition, oral rehydration solutions might be recommended aside from increasing the fluid intake. These solutions are available in sachets and readily available over-the-counter in drugstores. The solution helps replace glucose, salt and other vital minerals that were lost if dehydrated.
Once the individual believes that he/she is at risk for dehydration, a doctor should be consulted whether oral rehydration solutions are needed. If the individual has the appetite to eat, he/she should maintain a normal, healthy diet. In most cases, plain foods such as whole meal bread or rice are recommended. It is best to stick with 6 light meals in a day instead of the normal 3 large meals.
Avoid work until there are no symptoms for at least 48 hours to minimize the risk of spreading the infection to others.
Medications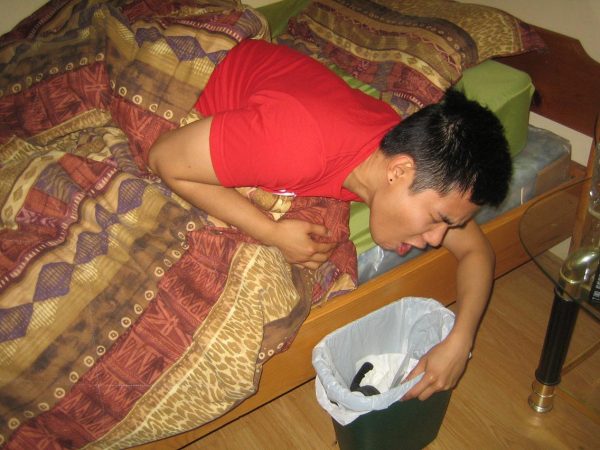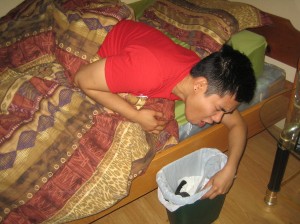 If the symptoms are quite severe, the doctor might recommend some medications such as the following:
Anti-diarrheal medications
These are oftentimes given to minimize diarrhea. Loperamide is commonly used in managing gastroenteritis which works by slowing down the movement of the bowel contents and increases the absorption of water from the gut.
The common side effects of loperamide include dizziness and constipation. Other uncommon side effects include drowsiness, stomach cramping, bloating and rashes.
Loperamide is not ideal for those who have dysentery or ulcerative colitis. In addition, it should not be used by pregnant women. On the other hand, it can be safely used while breastfeeding. Always bear in mind that anti-diarrheal medications must not be given to children below 12 years old unless prescribed by the doctor.
Anti-emetic medications
Anti-emetic medications particularly metoclopramide are oftentimes used to prevent or minimize vomiting. This medication is available in tablet form or as an injection. It works by relaxing the muscles used during vomiting while at the same time speeding up the absorption of foods and fluids by the digestive system.
Antibiotics
Take note that antibiotics are not typically recommended in managing gastroenteritis since most cases are due to viruses. On the other hand, antibiotics are recommended if the individual has a severe case and the specific bacterium has been determined in an analysis of the stool exam.
Treatment at the hospital
Hospitalization might be needed for those with severe dehydration brought about by the condition. An individual is an ideal candidate for hospitalization if there have been frequent episodes of vomiting, symptoms that indicate severe dehydration and has an underlying health issue such as HIV or Crohn's disease. In most cases, the treatment involves the administration of fluids and nutrients intravenously.