Fact Checked
A Montreal company has received Health Canada approval to produce a reusable, recyclable mask they claim is more efficient than the vaunted N95.
The mask is the invention of surgeon and Dorma Filtration CEO Rene Caissie. Caissie's design, the Dorma 99 will go into production in Sherbrooke at the end of the week, using Quebec materials.
The doctor claims the mask filters 99% of particles in the air, while the N95 filters just 95%. Unlike the N95, which is single-use, the mask can be safely sterilized up to 30 times.
The mask is sprayed with hydrogen peroxide 3% and put in an ozone chamber, like a TS03 which is a cold sterilizer that is available in a lot of hospitals. After it is used up, the Dorma 99 can be recycled.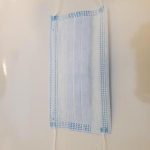 A package of 30 N95 masks can be $150 but the Dorma 99 will cost $85 in stores and will be available at a bulk discount for hospitals.
For more information about this story, click here.
https://www.bbc.com/news/health-51205344
https://www.mayoclinic.org/diseases-conditions/coronavirus/in-depth/coronavirus-mask/art-20485449
https://www.washingtonpost.com/lifestyle/2020/09/30/mask-guidelines-covid-faq/?arc404=true