Fact Checked
With masks now mandatory in Yukon, local mask-makers are rushing to keep up with a surge in demand for face-coverings.
According to Nancy Bliss who paints specialty-designed masks, sales have at least quadrupled, and she has been trying to keep up.
In Dawson, Ashlee Fraser shared that more people wanted masks following new cases and a recent exposure notification in the community.
The Yukon government has made masks mandatory in indoor public spaces as of Tuesday. People over age five are required to wear face coverings in most public spaces, including public transit, common office areas, and restaurants. The territorial government recommends using masks made with three layers, although it stated that two-layered masks are fine.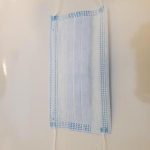 People in Yukon can be fined up to $500 for not wearing a mask where required. The Yukon government stated that scarves, balaclavas, bandanas, or neck warmers do not count as protective masks.
For more information about this story, click here.
LEARN MORE
Our courses maintain social distancing measures with reduced class sizes to maintain the minimum 2 meters apart along with the mandatory use of face masks and regular temperature checks. The venue of the courses undergo regular, enhanced cleaning and disinfection routines.
For more information about face masks, check out these sources:
https://www.mayoclinic.org/diseases-conditions/coronavirus/in-depth/coronavirus-mask/art-20485449
https://www.hopkinsmedicine.org/health/conditions-and-diseases/coronavirus/coronavirus-face-masks-what-you-need-to-know
https://www.fda.gov/medical-devices/personal-protective-equipment-infection-control/n95-respirators-surgical-masks-and-face-masks