Fact Checked
Quebec is making face masks mandatory in indoor public spaces as efforts continue to clamp down on the novel coronavirus pandemic.
Premier Francois Legault announced the measure on Monday. Wearing a face mask in public will help keep people safe during the ongoing health crisis, but there is an exemption for those who cannot wear one for medical reasons. He asks all Quebecers to wear a face mask in shops and public transportation.
Business owners will have to enforce the rule, which applies to anyone over the age of 12. The fines will range from $400 to $6,000 for those who fail to implement the regulation.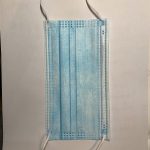 The new rule applies in all indoor settings across the province, including restaurants, but only when patrons are moving around.
The move comes as the face mask rule was implemented for commuters on public transit across the province on the same day. Over the past week, some municipalities where COVID-19 outbreaks have been reported have also made face masks obligatory in enclosed public spaces.
For more information about this story, click here.
https://www.cdc.gov/coronavirus/2019-ncov/prevent-getting-sick/diy-cloth-face-coverings.html
https://www.who.int/emergencies/diseases/novel-coronavirus-2019/advice-for-public/when-and-how-to-use-masks
https://www.cdc.gov/coronavirus/2019-ncov/prevent-getting-sick/about-face-coverings.html