Fact Checked
Tofino and Ucluelet are asking residents from the Lower Mainland to stay away for at least the next eight days.
The District of Ucluelet, Tourism Ucluelet, and the Ucluelet Chamber of Commerce asked residents of the Fraser Health and Vancouver Coastal health regions to postpone their visits until the afternoon on November 23.
Visitors scheduled to travel to Ucluelet from these health regions are being asked to speak to their accommodation provider and reschedule their trip until it is safe to travel.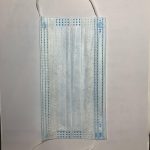 On Sunday, Tofino joined Ucluelet also asked residents of Vancouver Coastal and Fraser Health to postpone non-essential travel.
For more information about this story, click here.
LEARN MORE
Our courses maintain social distancing measures with reduced class sizes to maintain the minimum 2 meters apart along with the mandatory use of face masks and regular temperature checks. The venue of the courses undergo regular, enhanced cleaning and disinfection routines.
For more information about face masks, check out these sources:
https://www.fda.gov/medical-devices/personal-protective-equipment-infection-control/n95-respirators-surgical-masks-and-face-masks
https://www.bbc.com/news/health-51205344
https://www.washingtonpost.com/lifestyle/2020/09/30/mask-guidelines-covid-faq/?arc404=true